...I'm a fiddler. I tweak and change until I'm happy, but it usually takes two or three tries until I like what I see. I prefer this layout, but I'm not sure of the colour. I'm sorry if this makes for confusing viewing.

A busy week last week. Our viewer arrived and went, and made an appointment for his partner to visit Saturday, which she duly did. He didn't, as a prior engagement took precedence...(his new boss took him to the Emirates to see Arsenal beat his team). Now another waiting game...
I did get my orders almost finished, the only thing outstanding is a pair of ear-rings to match a necklace I'd made. I have to wait to visit Newmarket Bead Fair to find matching beads, but the buyer has been warned it might not be easy. The rest are ready to be sent, and will be winging their way soon enough.
I received the last of my birthday present today. I had the money to spend...and bought a beautiful ring from
Lunatic Art
in France. I've placed a photo below.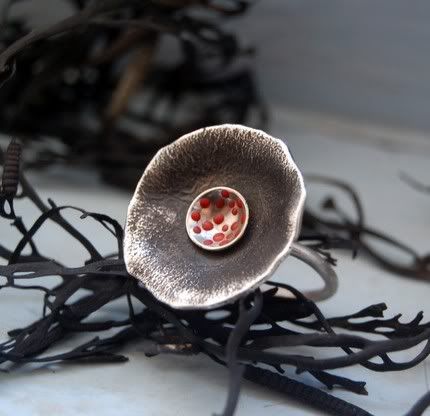 I love her organic look and feel. I'm sure I'll be back there, so many temptations!
Anyway, I've got jobs stacking up this afternoon, as another busy week looms large. So I better press on...
oh, and PS...my team drew this Saturday! yay!!