...day!!
Getting set to start painting...I'd given up making beads for the day. Then going to take the photos I wanted later, the phone rang...my agent! Estate agent...anyway, the people who viewed Monday, loved the house, but the garden wasn't big enough. Right! Okay! 100ft width of garden wasn't large enough... I won't be cynical here! But, she'd had a visit from my persistent under offerers...and she'd pushed them to a tentative up...which set the whole agent talking to agent in flow. Leaving us waiting to hear back from these persistent persons to see if they'll match what we want, and me phoning my agent this morning for re-marketing purposes. I earned my lunch yesterday dealing with two professional negotiators! So I'm out this evening to see the Benjamin Button film, with Brad Pitt...I'm sorry, but I like him...always have! ;)
Then this morning I check into Etsy for a look see, and I've been included in a treasury. It made my smile go from ear to ear...and at last I've worked out how to copy it here!!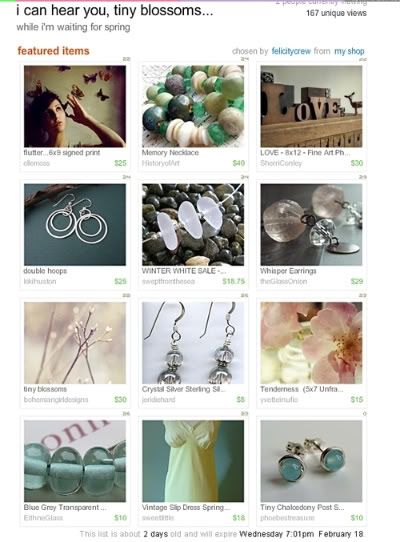 And wow!!! It works!!!
Thank you to Felicity Crew for including me in her beautiful calming treasury. I think it's a very pretty treasury too....
I think it featured on the front page!
I must say sorry to someone I promised I'd be showing her work...it is coming, but events this week have rather swept me along.